Innovation
Learning by Design
From an innovative curriculum to creative learning spaces, Campbell School of Innovation (CSI) will offer a different way to do school. Preparing students for an undefined and fast-paced future requires that we reevaluate traditional education models and question what really works for today's students.
At CSI, students will focus on learning how to learn as they become creative, flexible, community-focused leaders of change. Design thinking, growth mindset and the "Four Cs of Learning" will provide the framework by which our students will seek, learn, and lead.
What is Design Thinking?
Design thinking is an empathy based, creative problem solving process embraced by innovators around the world for addressing complex problems. At its heart, it nurtures the ability to see a situation from someone else's point of view, engineer a solution, and then test and refine your solution based on feedback. It is one approach CSI students will use to master the California Common Core State Standards and build the adaptable thinking skills they will need for success in the 21st century workforce.
The d.school, a design thinking school at Stanford University, has developed a now well-known process that outlines the core elements of design thinking. It may look linear, but design thinking is messy! You can jump into the process at any point and will find yourself moving back and forth between steps as you work toward a solution.
Example: The ABC Nightline news program illustrated the design thinking methodology in a 1999 segment called The Deep Dive. The story follows a team from the global design company IDEO as it creates a better shopping cart.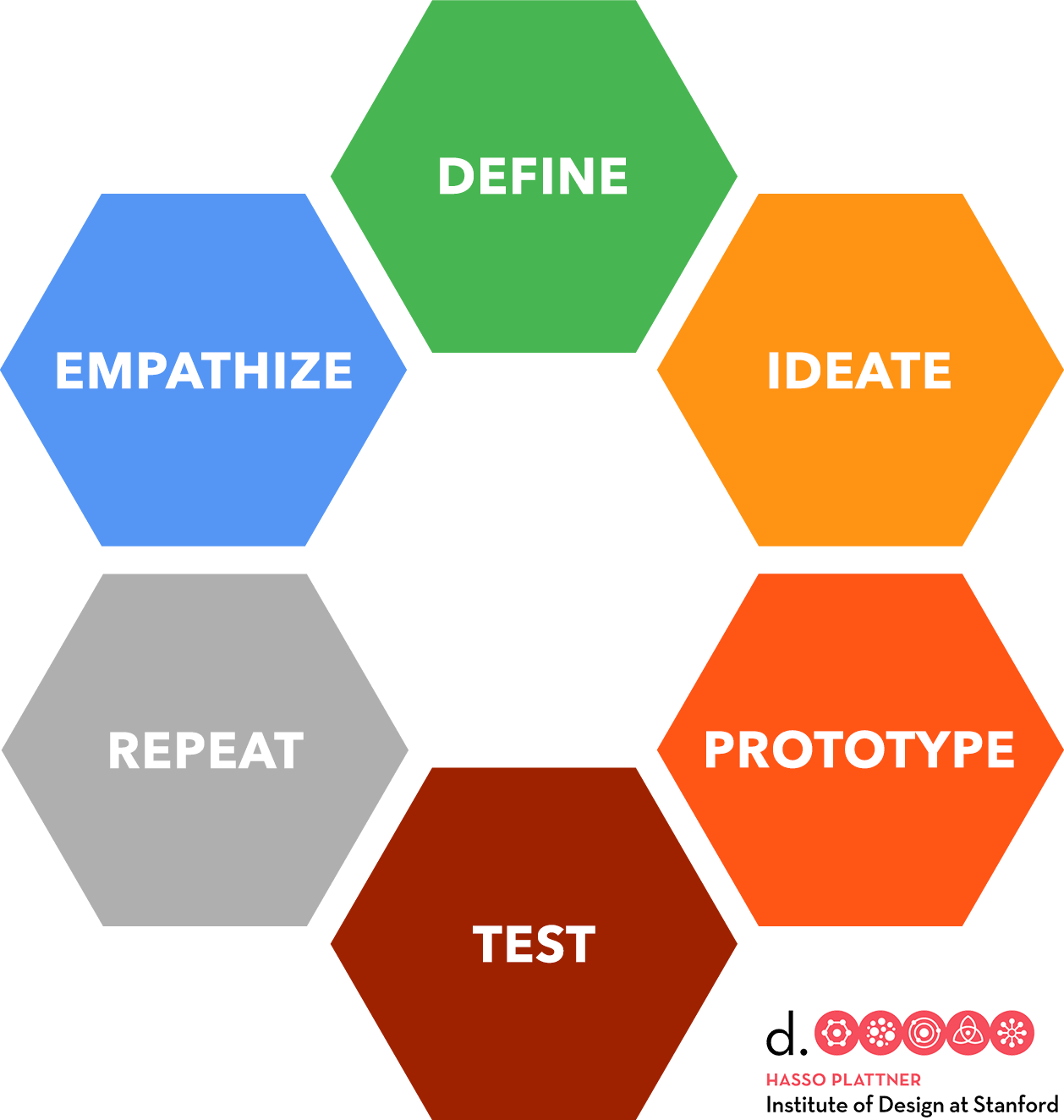 Working with The Tech Museum of Innovation in San Jose, we have developed a process of inquiry that reflects the design thinking process in terms of our motto: "Seek. Learn. Lead."
Seek
This is the curiosity phase. Learning to empathize with those around you and improve your questioning skills is key to correctly identifying problems that need to be solved.
Learn
This is the creativity phase. In design thinking, learning is about researching, brainstorming, and gathering feedback as you ideate and prototype your ideas.
Lead
This is the sharing phase. Acting on your ideas and discoveries will have you returning to the creativity phase to refine your solutions. This process of rapid iteration encourages being open-minded and adaptable to change.
What are the
"Four Cs of Learning"?
A coalition of business leaders, educators, and policymakers identified the most important skills for success in the 21st century workforce:
Critical Thinking
Communication
Collaboration
Creativity
They are also a critical part of Common Core State Standards and are considered the essential skills children need to thrive in school and in life.
What is Growth Mindset?
Intelligence is earned and nurtured, not inherited. This is the philosophy behind the growth mindset, an attitude of learning that promotes active learning in students. When children understand that being "smart" is something to work for, they are less likely to believe that there is a threshold for their achievements.
At CSI we plan to nurture growth mindset through design thinking. Students will be encouraged to demonstrate their creativity and share their ideas. Through their collaborative failures and successes, students will discover their potential as learners and leaders.
Changing the Landscape of Learning
At CSI, we are challenging everything about how we "do school" from preschool through eighth grade by introducing an entirely new learning culture based on the design process.
Instruction
At CSI, students will experience project-based learning and the design thinking process as they master California's rigorous academic standards and develop a growth mindset.
Schedule
The basic schedule, such as daily start and end times and meal times, will be in place when school begins in August 2018. The schedule will be adapted as we bring more teachers, parents, and students into the design process.
A student's weekly schedule will be structured as follows:
Core subject instruction (math, literacy, science, social studies).
"Deep dives" to apply their learning through inquiry based projects, independent research, and collaborative projects.
School community-building activities, including assemblies, student mentoring opportunities, guest speakers, presentations, and more.
Opportunities to participate in physical education, music, and other arts.
Learning Spaces
Newly designed learning spaces will change how teachers interact with their students. Open areas, flexible seating, and collaborative work spaces encourage creativity and collaboration. As students share their questions and discoveries, they will develop their confidence, empathy, critical thinking abilities, and their sense of community with classmates.
Growing into Middle School
Design thinking is empathy based, and students will have abundant opportunities throughout their education to teach and be taught by one another. While the early-grade students learn basic principles of the design process, the well-practiced upper-grade students will step into leadership roles to teach and be examples for their classmates. As students participate in the learning community they create at CSI, they will see that the problems they can solve through the design process are relevant to themselves and their community.
New curricula, learning spaces, and leadership opportunities are just a few of the ways CSI is changing how we do school. As CSI grows, we will continue to involve our community towards redesigning our learning culture around our core values: "Seek. Learn. Lead."
Empower Students
We often talk about what it means to move from compliance to engagement.

It's the idea of creating an environment where students want to learn rather than have to learn.

But if we want students to be creative, self-directed learners we need to go beyond student engagement and into empowerment.